JENNY CRAIG REVIEW
We tried Jenny Craig and here's what we think.
To keep our content free to you, the reader, we earn a commission from some, but not all of the companies featured on our site. Please see more details on our commissions at the bottom of this page*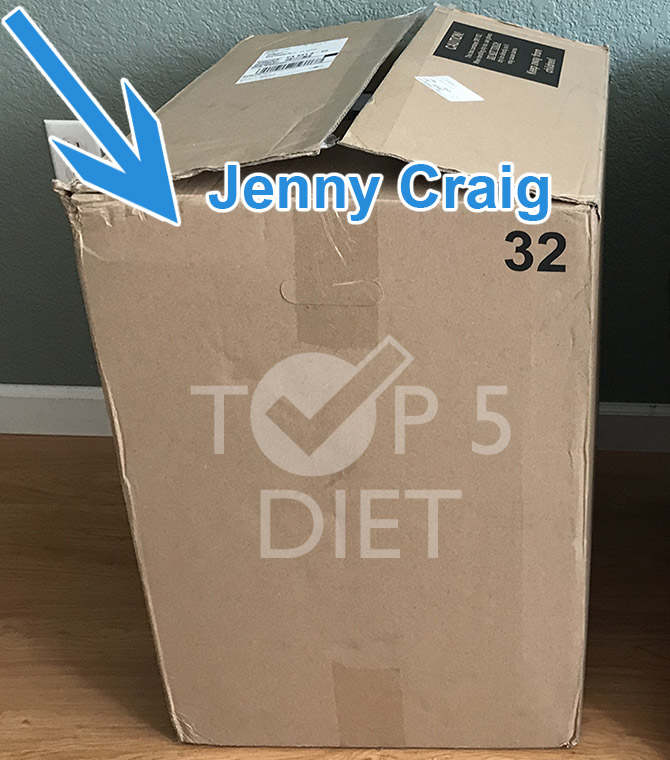 Beyond just food, Jenny Craig has gotten an impressive diet package.
With the plan, some things you will get include: a consultant to offer support in person or on the phone, you'll get prepackaged low-calorie food, an exercise plan, and online tools to help you plan and track meals.
There are no forbidden foods, such as menus loaded with exotic foods or "detox" portions that claim to melt fat.
There are around 70 different and special prepackaged foods from Jenny Craig that you will eat often every week.
Depending on your height and weight, you will consume about 1,200 calories each day.
What's in the Box
For our review, we ordered Jenny Craig's "2 Week Women's Chef's Choice Menu Plus" menu plan, along with their "20 Pounds for $20 Program".
Jenny Craig's plan consists of 2 different portions: non-frozen, and frozen.
Jenny Craig sent us both portions in one large brown box.
1) Non-Frozen Portion – Jenny Craig's non-frozen portion consists of ready-to-go foods like bars, crisps, cookies, cereal, etc.
2) Frozen Portion – Jenny Craig's frozen portion consists of frozen foods such as Chicken Marsala, Margherita Pizza, Classic Lasagna with Meat Sauce, and a triple chocolate cheesecake.
The frozen portion comes in an insulated shipping container (box) with dry ice inside.
Food Selection and Taste
Jenny Craig's food selection is pretty good, with many different items to choose from.
The plan we went with — "Women's Chef's Choice Menu Plus" plan — also comes with foods pre-selected for you, but you can later work with a Jenny Craig consultant to customize your menu based on any preferences you may have.
Here were some of our favorite Jenny Craig foods from both the frozen and non-frozen portions:
| | |
| --- | --- |
| | Grilled Chicken Teriyaki Bowl |
| | Turkey and Wild Rice |
| | Apple Crisp |
| | Cinnamon Coffee Cake |
| | Chicken Primavera |
| | Triple Chocolate Cheesecake |
| | Lemon Cake |
| | Cranberry Almond Cereal |
| | Peanut Butter Cookies |
| | White Cheddar Popcorn |
We were not able to try all the Jenny Craig foods due to having certain dietary restrictions, but the food we did try was pretty good, especially when you consider the fact that its a "diet" food.
Ease of Starting and Staying on the Program
While Jenny Craig did come with a "Getting Started Guide", in our experience it was not immediately clear where we need to start, and what we need to do.
None of the Jenny Craig food was marked whether its for "Breakfast", "Lunch" or "Dinner", so the only way to figure this out was by looking at the "Getting Started Guide" and figuring things out from there.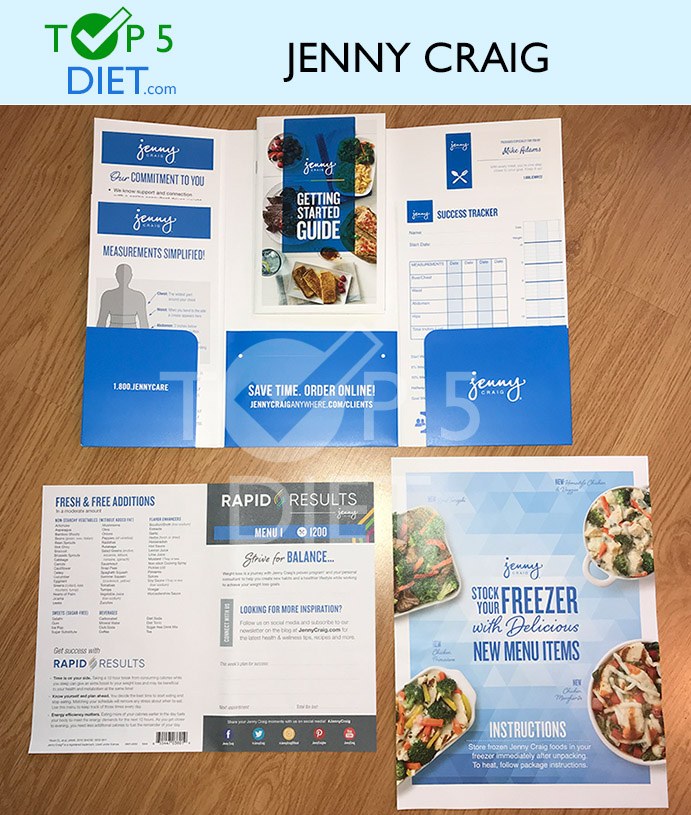 Not a huge problem, but in our opinion the lack of guidance and directions from the time we opened the box was a bit frustrating.
You can track your Jenny Craig weight loss progress on a provided "Success Tracker" sheet, or by using their official app. The Jenny Craig app allows you to track your food, weight, etc.
You can also use the app to locate a Jenny Craig center near you. At the time of writing this review, the Jenny Craig app had a rating of 3.5 stars and 21 ratings on the Apple App Store.
When you sign-up for Jenny Craig, you also get access to a personal consultant who can help you with your weight loss goals, and is there to provide guidance and support. You can choose to either meet in person, or over the phone.
Overall, we think Jenny Craig provides a good level of support, especially thanks to their personal consultants, but we wish they would make it a bit easier to get started.
Jenny Craig Price
We found the Jenny Craig pricing structure to be a little confusing.
First of all, Jenny Craig doesn't offer 4-Week plans like one of their main competitors — Nutrisystem — does, and secondly, you can only select your menu plans in one or two week increments.
Going with the 1-Week menu plan will cost you $22.94 per day for both women's and men's plans.
And if you decide to go with the 2-Week menu plan, the cost of both women's and men's plans comes out to $22.92/day.
We chose the 2 Week Women's Chef Choice Menu Plus menu plan for our review, and our total for this plan was: $320.82
We also had to pay an additional $20 for the "20 Pounds for $20 Program", so our grand total came out to: $340.82
Jenny Craig also has a Low Sugar (for Type 2 Diabetes) menu plan, as well as a Meatless one.
The Final Word
After ordering Jenny Craig's 2 Week Women's Chef Choice Menu Plus menu plan, and going through the experience of trying the food, etc., we think Jenny Craig is a good diet program that can help you lose weight and keep it off.
You don't need to cook and the food is prepackaged, so dieting will not be as hard as if you were to do it yourself.
Support is good too and you can talk with consultants on the phone or in person.
Our biggest issue with Jenny Craig, however, is the price!
Nutrisystem's top rated "Uniquely Yours" plan costs $11.54/day, while Jenny Craig's 2 Week "Chef Choice Menu Plus" plan costs $22.92/day.
That means that when comparing the daily costs of these two plans side-by-side, Jenny Craig costs almost 2x more!
On top of that, we thought Nutrisystem eliminated a lot of the guesswork when getting started by providing more guidance and directions right out of the box.
The bottom line is that while both programs are proven paths to sustainable weight loss, in our experience Nutrisystem was easier to get started and offers more bang for your buck!